Roundabout
Roundabouts are expensive to buy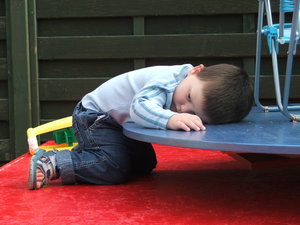 Connor likes roundabouts, roundabouts are expensive to buy and you do not get much for your money.
Time to get building …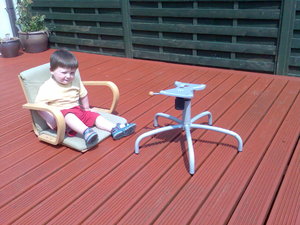 Materials
An axle
A circular piece of wood
Screws
More Screws
Paint
The first two items I acquired using Freecycle. A chair gives a nice axle. I also got a Dinning table via Freecycle. Thanks to Aya and Richard (from Freecycle) for the chair and table.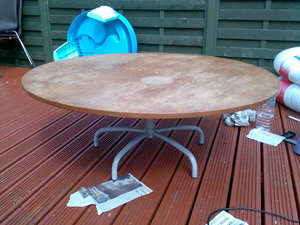 Building
The dinning table was a circular table which could be expanded out to an oval shape. I used these extra leaves to level the base. Then screwed to this the old table top.
Next give the table top a good sanding and paint. I also made a step/base around the roundabout.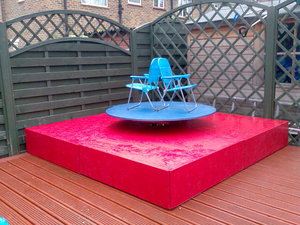 Alas I had to buy some timber, which took the budget up a little. It was not too bad as B&Q cut the panels to size. The base is made in four quarters, so can be easily stacked away. In total there are legs (7 x 4) legs plus 5 anchor points for the securing the base. Thanks to PVG for lending me his saw to cut 33 legs.
I found some cheap (£2.50) children's chairs which were mounted on top.
Inspection Time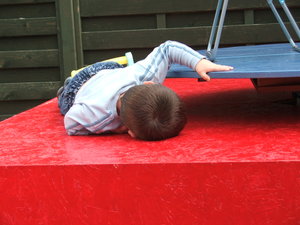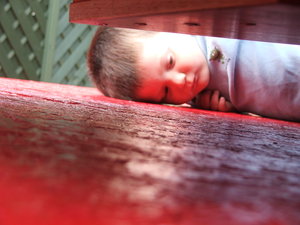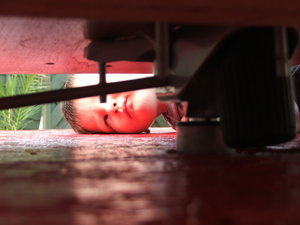 Roundabout In Action